With VIA Trailways, you can expect comfortable, quality transportation and travel experiences. We take the safety and comfort of our customers very seriously.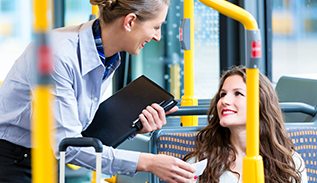 Read what past customers have to say about their experiences about travelling with Via Trailways…
"Excellent charter company, well maintained equipment, friendly staff, reliable and safe transportation." – John Joseph R.
"I booked Via to provide transport between my wedding reception and ceremony venues. Booking and follow-through before the event was easy and very friendly. Our driver was responsive and great with the guests! Thanks Via!" – Stephanie N. 
"Thank you for driving the bus for us. I liked that you were like a tour guide. I liked that you showed us everything that we wanted to see. I liked that you were so nice to us." – Annie, age 8
"I am very pleased with the services of your bus company." – Heidi, school administrator
"The driver's great attitude and impressive skills maneuvering in and out of traffic made the group feel safe and secure." – Ellen
"The coach with the galley was great. We could store extra lunches and had a place for coolers and cases of water. It suited our needs perfectly." – Ann
"I can't thank you enough for your attention to detail that made our club's trip so special. It was truly a pleasant experience to work with you." – Marcia
"Thanks so much for your expert driving us around San Francisco and the parks. Your competency behind the wheel of our big bus made us feel comfortable and safe."  – Andrea & Hank
"We had a school field trip to San Francisco and everything was perfect with VIA!" – Diana G.
"We recently chartered VIA for our band trip to Disneyland. We had an amazing trip! A huge thank you to our drivers. They arrived on time, delivered us to our destination, and they did it all with a big smile & a friendly attitude. We will definitely use VIA Trailways again!" – R. Kaye M.
"One of the best tour bus companies I've have ever had the pleasure of experiencing. Their drivers know customer service. The equipment is the top of the line." – Kirk F.
"VIA Trailways in Tempe has great customer service, clean buses and great Drivers!" – Sonya Z.
Want to read or write a review? Find us on Google+  and Yelp!