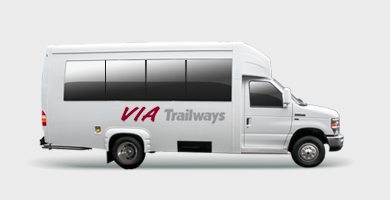 Via Trailways is the provider of choice for quality bus transportation, travel experiences, and related services. We are committed to serving our customers, supporting the growth of our employees, and responding to the needs of our community.
Let Via Trailways help with your trip planning! We offer charter buses to and from hotels in and around the Merced, Fresno, and Tempe areas. Via Trailways offers charter bus services to and from hotels to popular destinations such as theme parks, casinos, national parks, and airports.

Discover the benefits of travelling with Via Trailways:
You don't worry about having to find a spot to park your car or paying to park in an expensive garage.
We are a more affordable option, saving you money on gas and regular wear-and-tear on your car.
When travelling with Via you'll be able to relax in one of our comfortable and secure charter buses.
We can transport groups of any size! Choose from our charter buses of four different sizes so that your friends and family can all travel together.
Want to learn more about the benefits of travelling with Via Trailways? Request a quote today!

<< Back to Services